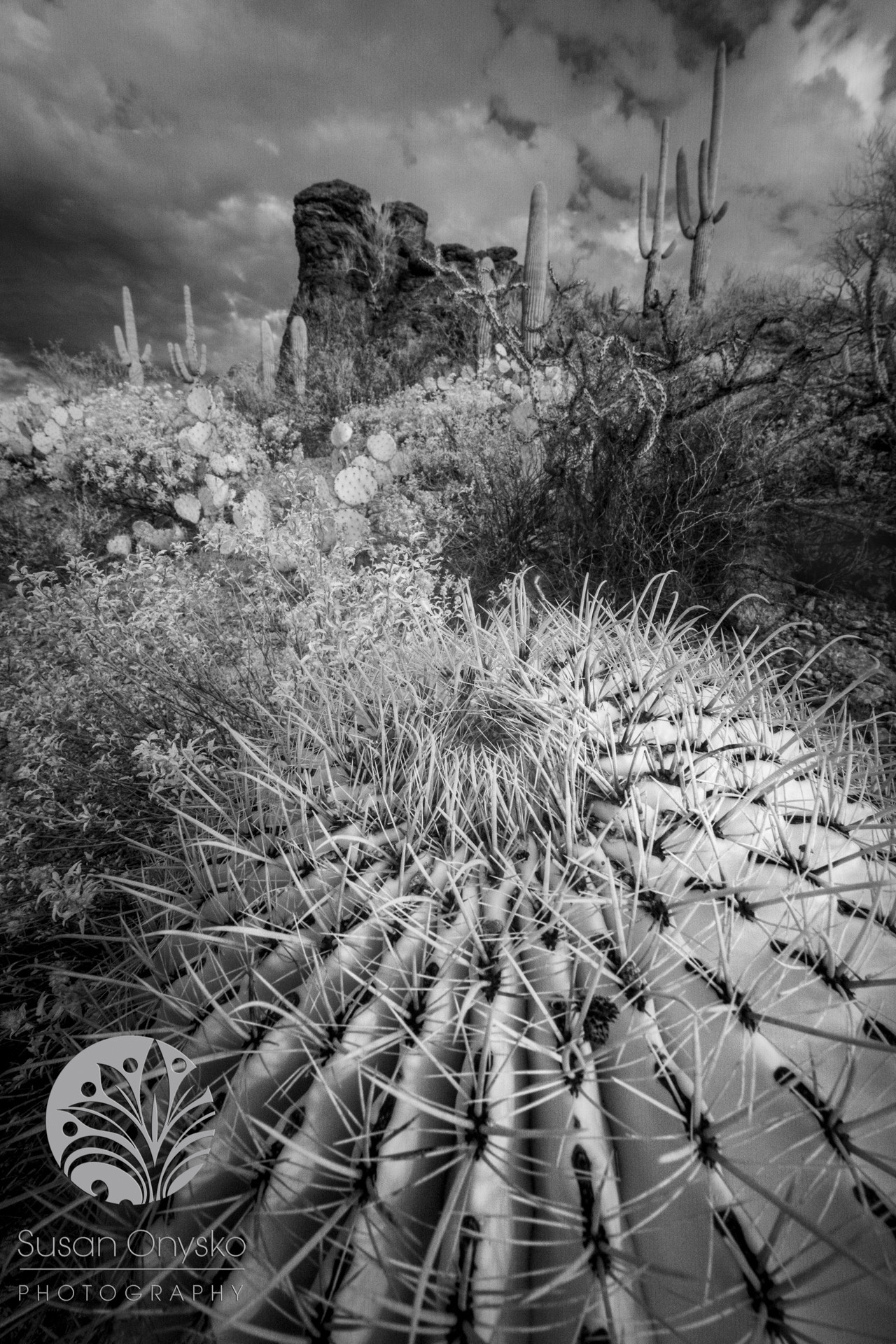 Well, this never, ever happens… at least to me anyway. This photograph was taken the first morning of a workshop with Tom Bol Photo Workshops at Gates Pass in Saguaro National Park, Arizona. I started out using a wide-angle lens to photograph the yellow brittle bush in the foreground and the stunning rocks, cacti, and clouds in the background. I love color and that was a pop of color in the desert that I didn't expect. It was pretty windy out, though, and I worried about the flowers ghosting too much in the foreground. I looked for another foreground element and found this stunning barrel cactus.
I took a few shots in color first. They looked nice but with the clouds in the scene and yellow flowers not being an important element anymore, I ran back to the car. I got my infrared camera to see how that would look. I quickly changed my preview screen to show the image in black and white instead of the out of camera red preview. I shot a frame and the infrared image took my breath away.
I will be the first to admit that wide angle landscape photography is not my forte, so when I get an image I like I am quick to analyze why I like it. Hopefully in the future I come to "see" that image a bit quicker in the field. Why do we like the desert? The textures of the prickly cactus is what we are drawn to and what it's known for. By taking away the color I enhanced all the desert textures and shapes. The clouds enhanced it by adding a bit more mood.
Did I click once and be done? Oh no… I took two hundred images of this scene (no judging, it's free!) by changing my position mere inches up, down, left, and right until the cactus was just big enough in the foreground but not too big to overwhelm the rest of the scene. I liked how the barrel cactus was the focal point, but by showing some mid-ground I also included some prickly pear cactus which led to some Saguaro Cactus and an impressive rock formation and then those incredible clouds!
This Image is on display at Fairmount Center for the Arts. Show info in previous posts.
#susanonyskophotography #nikonnofilter #blackandwhitephotography #infrared #infraredphotography #lifepixel #fineartlandscapephotography #fineartlqndscape #tombolphotoworkshops #fairmountcenter #fairmountcenterforthearts #fotonostrum #fotonostrumgallery #tuscon #arizona #saguaronationalpark #landscaprephotography #sonorandesert #sonoradesert