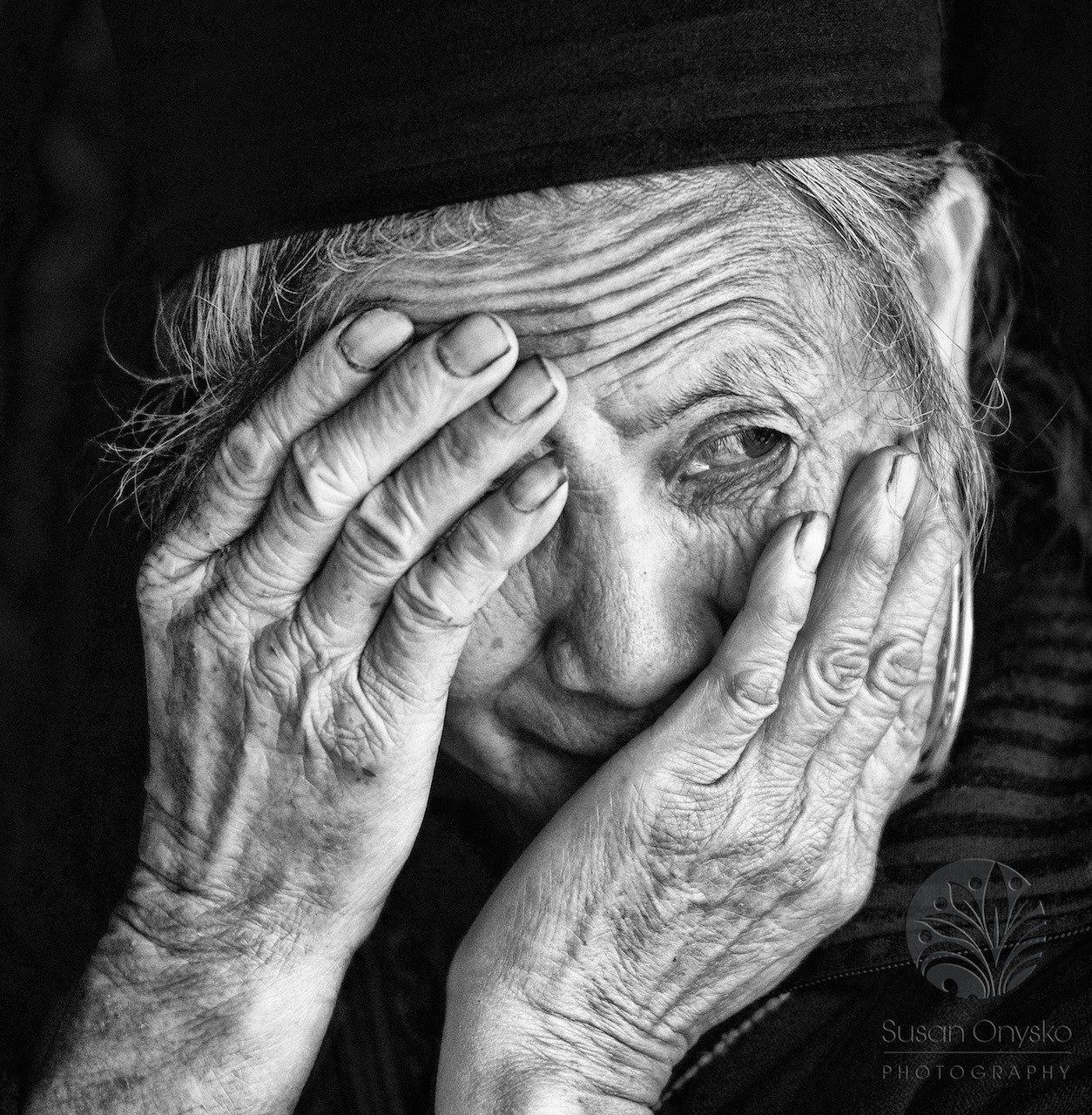 During my trip to Vietnam in the spring of this year I visited the town of Sapa in the Sa Pa district of the Lao Cai province.  It was there that I came across this amazing elderly woman from the Blue Hmong tribe.  Her face immediately drew me in, hinting at stories hidden deep in the lines that crevassed her face.
I remained back, observing her as she did her traditional weaving.  Sapa has become a bit of a tourist town and I watched her mixed emotions flash across her face as tourists hovered around her, taking photos at very close range.  Pride, apprehension, wonderment, embarrassment, and frustration all came to the surface in fleeting moments.  Living in a hill tribe village that caters to tourists must be both a blessing and a curse.  I forced myself to overcome the urge to refrain from disturbing her any further.  I am very glad that I did as her face became one of my favorite photographs from the trip.
Upon arriving home I processed using Nik Silver Efex to do a "low-key" black and white conversion.  Done.  Or so I thought…
I still submit photos on occasion to several local camera clubs that I am involved with.  Family members, friends, and even co-photographers are often hesitant to give honest opinions.  Judges, on the other hand, can oftentimes be brutally honest.  As long as their criticality comes with an explanation then I am all ears.  It does require the development of a thick skin, which is not an easy task.  Keep in mind that upon submitting a photo to a judge you have personally asked them for their opinion, good or bad.  Some people have a negative reaction to judge's critical remarks.  To them I ask when is the last time they showed a photo to a friend and not had "amazing", "breathtaking", or the like come as a response?
I submitted this photo into a competition and it did poorly.  Unfortunately, this particular judge did not provide any advice on how to improve the photo.  They merely said, "nice image".  I was on my own.  Looking at the image I had to admit that it lacked the impact that I originally felt when I saw her.  It sat in my office for months until it dawned on me to go back and think about what it was that initially drew me to her.  What was my first impression of her and how could I accentuate that?  It was undoubtedly her incredibly lined face.
My initial black and white conversion lost the impact of those lines.  It lost the impact of her story.  Keeping an open mind left the door open for further work on the image.  It convinced me to do a second round of processing on the photo whereas I chose a much darker conversion with added contrast.  Her hidden stories came back.
I submitted the darker version to a different and oftentimes more critical competition.  Her stories got a perfect score.