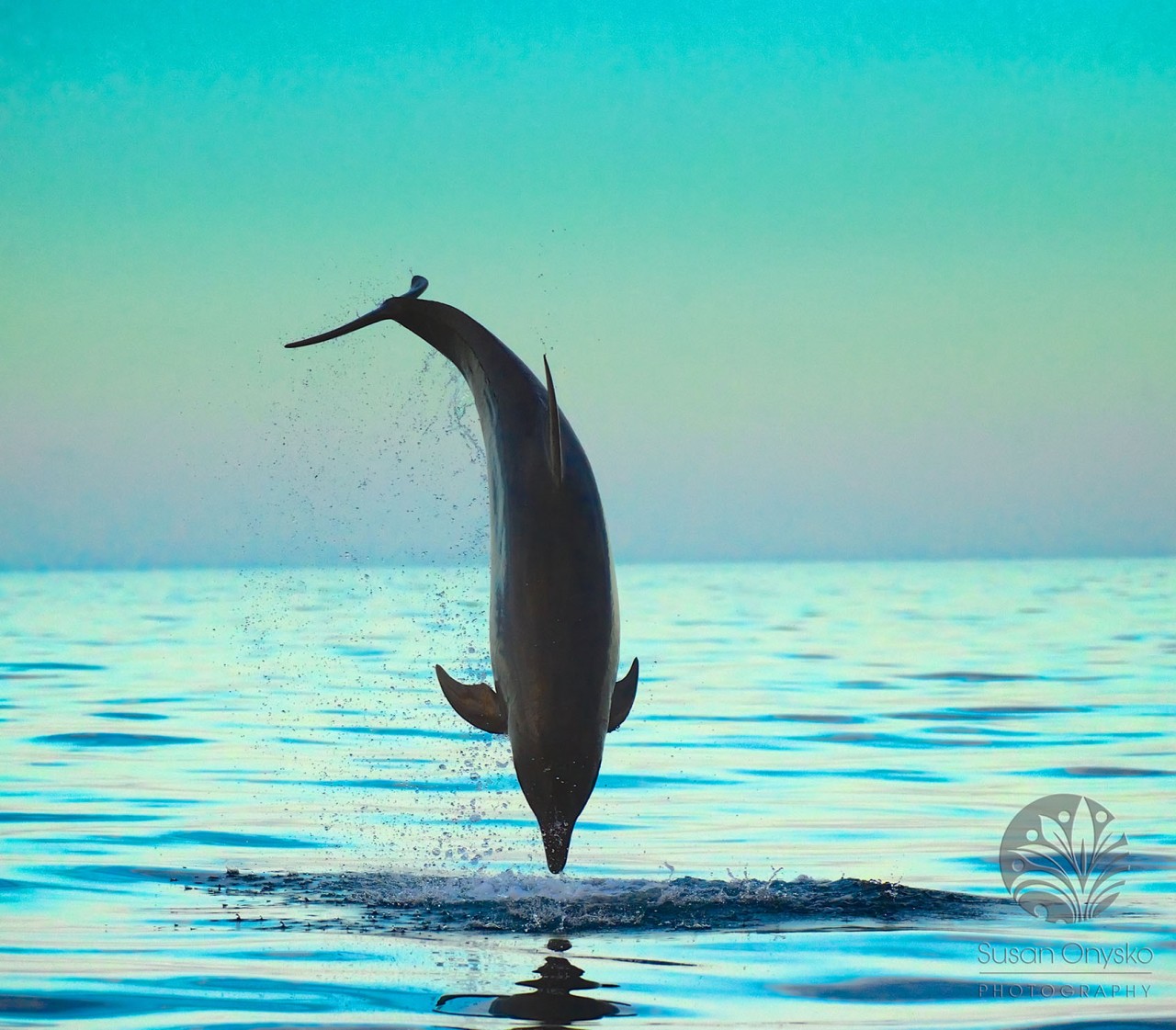 The last few family trips have allowed me to explore a side of my profession that I have had little experience with: wildlife photography.  Traveling is always an adventure.  Having four kids on your trip (five, if you count my husband) ratchets that adventure up a notch.
For one of the trips, we flew to Quito, Ecuador with the ultimate destination of the Galapagos Islands.  Upon landing in the Galapagos two of my children and myself were in agony fighting sinus and ear infections coupled with high fevers.  I'd like to thank Disney World for that departing gift from a few days prior.   We were a miserable bunch.  Shortly after we got settled in our cabin on the ship it was time for our first zodiac excursion to the islands.  We debated going or not going.  Miserable as we were, we decided to go because "we are only here once and we don't want to miss anything".
On the way back to the ship, there was a call to our zodiac that a pod of dolphins were frolicking in the water a little past the ship.  The guide hustled the zodiac over and we were met with a breathtaking experience.  There were around 20 dolphins zooming under our zodiac and doing flips beside us.  Often times they were too close for even my 70-200.  And let me tell you – they are fast.  You cannot truly appreciate how fast and unpredictable they are from a distance.  It's mind-boggling.  I love the D4: 10 fps.  Sure, I got lots of empty water photos, lots of dolphin "after-splashes", and many blurry midsections of dolphins almost touching my 70-200.  There were, however, some gems, including this one.  Thank goodness we decided to go on this excursion, for it was by far the highlight of the entire trip.
It was a gray day and approaching evening so it was definitely a high ISO moment (again, thanks D4).  I adjusted levels, mid-level contrast, white balance, and cropped in Aperture.  In Photoshop I did some minor cloning.  I used Noiseware Professional to reduce a bit of grain.  At first I tried just converting it to black and white but the result was pretty boring.  After adding one of the graduated filters from Nik Color Efex Pro, I was smitten.
I reduced the opacity of the filter, although truthfully I didn't want to!  If you are a child of the 70's and 80's like me and especially if you are a girl you'll remember all those dolphin posters that we use to plaster our rooms with.  You know the ones: dolphins flipping out of the water, frozen in mid-air, with smiles on their faces.  The sky and water would be full of amazing in-your-face colors: blues, greens, purples, and pinks.  Those colors added to the magical, dreamy feeling of the posters.  Many nights I would fall asleep with colorful dolphin scenes being the last thing that I saw.  Being out there with my family in the midst of the exciting dolphin action was a magical, dreamy moment that my children and I will never forget.  The scene came from the camera.  The color, however, came from my heart.
Photo Info: Nikon D4, 70-200mm w/2X teleconverter (ended at 140mm,) ISO 3200, f/5.6, 1/8000th, -0.67ev.