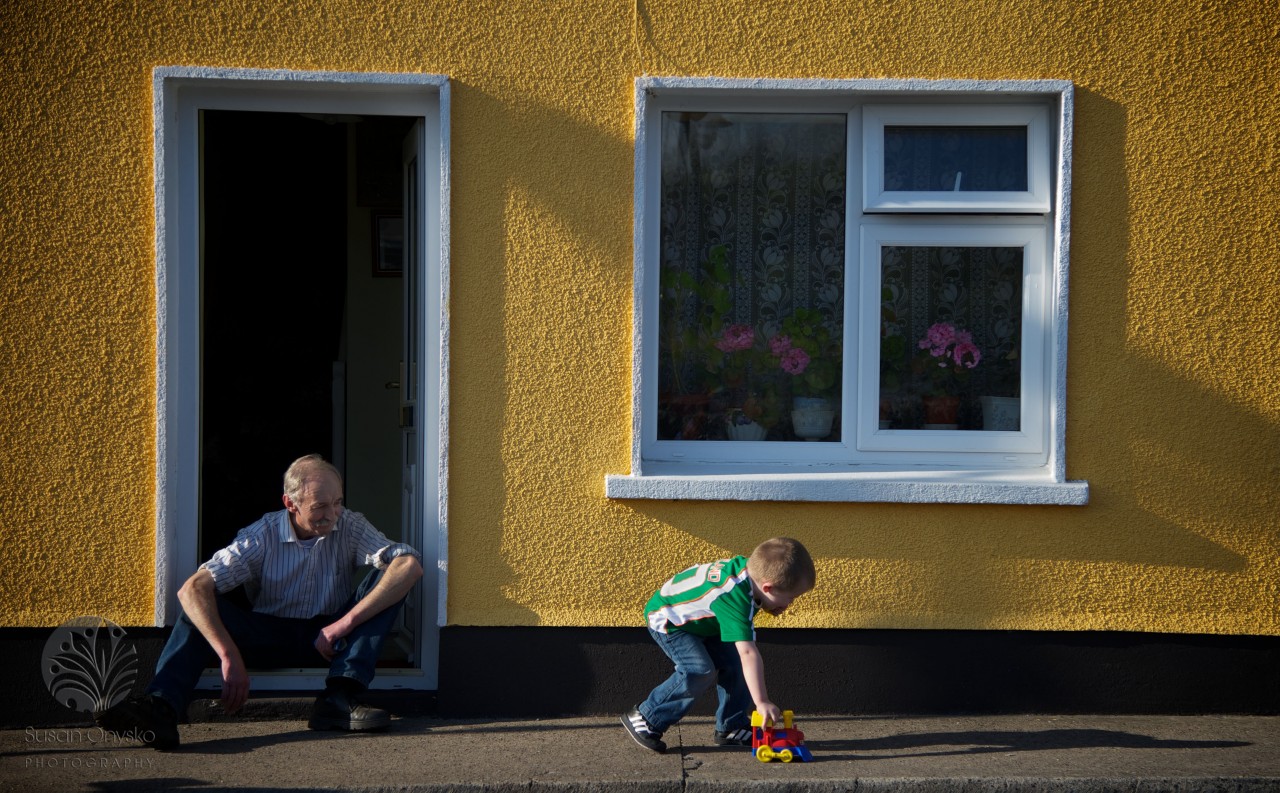 I just returned from the western area of Ireland on a trip that I took with Strabo Tours.  It was a fantastic trip filled with good friends and lots of laughs.  The mood of our group was spirited and lively much like that of the people of Ireland.
When I travel I feel the main focus of the trip should be the people.  Through observing their actions, behaviors and mannerisms you can draw conclusions about their life.   Although the people of Ireland are amongst the friendliest and kindest people that I have ever met, they were almost always incredibly shy when getting their photos taken.  It is hard to believe that a culture that has such liveliness and spark to them could be shy!
As we stopped in a small town for groceries one day I tried to photograph reflections in the windows of the main strip of town.  I just couldn't get into it.  The sun was on its way down in the sky and I had a thought: if I turned the corner the buildings would be side lit and have some shadows and possibly some texture.  Hmmm…  I started to wander off.  I turned the corner and saw an older man coming out of a beautiful yellow house.  I walked across the street and watched and waited.  An excited little boy went to the man as his mom watched from the next house.  The older man helped the boy open up a new toy truck.  As the man sat down in the doorway I waved and held up my camera and thank goodness there was no opposition!  The boy started zooming the truck around, and there was his shadow too.
Although this photo doesn't scream Ireland, it just warms my heart.  Was the older man watching and remembering the excitement of getting a new toy as a child or was he seeing the shadow of the boy and thinking how fast the day and time in general goes by?
I cropped, adjusted levels, reduced some highlights, sharpened and added a vignette in Aperture.  I did some minor cloning, dodging and burning in PS.
Photo Info: Nikon D4, ISO 400, 24-120 lens (at 65mm), f/4, 1/1600.