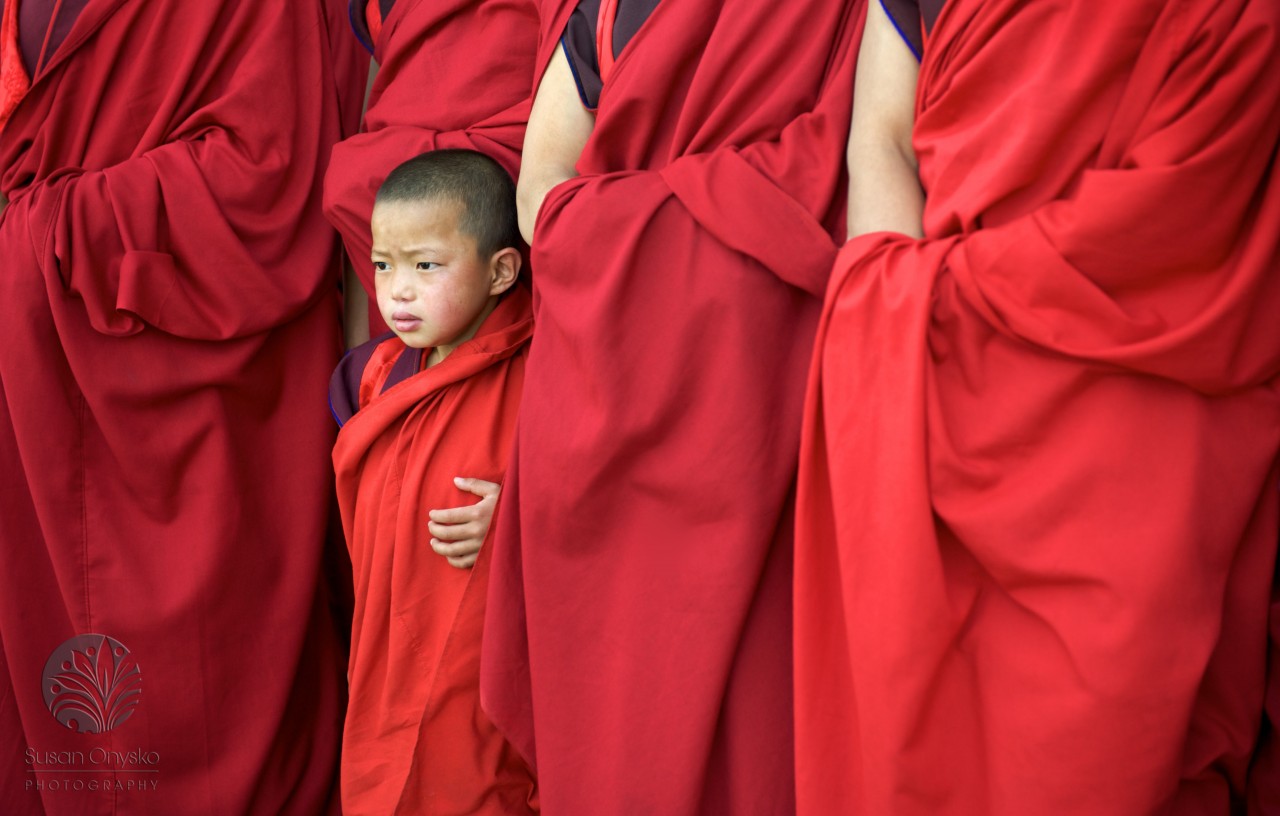 Sometimes you don't need all that gear, but a second set of eyes sure helps…
In 2009 I traveled to Bhutan with Photo Quest Adventures.  It was my first really big international trip and I did not have a lot of gear at that point.  We visited many monasteries during the three-week journey.   Not only did we get to photograph freely in them, at one we also received a blessing from the Head Lama.  Every photography expedition usually has one or two (if we are lucky) very authentic experiences that make the entire trip.  This day was definitely the one.  When I really think about it, however, the entire Bhutan trip was incredibly authentic.  There were no tourist trap areas, etc.
At one point, all of the monks flowed out in a sea of red and we were able to pose and shoot them as we wanted.  This little boy entered the scene – we found out later that he had only been there for a few days.  He was placed in the center of all the monks and everyone was shooting with a fisheye lens, which I did not have in my arsenal yet.  I experimented with different compositions using my 24-70 focusing on him.  A friend let me borrow a fisheye a bit later and I got to try it out in the same scene but with a different boy.
At first I didn't think much of this photo.  It was nice but I was stuck on the fact that I really wished I had that fisheye at the time of this shot.  I am fortunate to have always had a few friends who will look at my images and tell me the honest truth about them.  It's a wonderful thing for me because sometimes I am too picky and need to be put in my place!  This actually turned out to be one of my favorite shots from the trip.
I adjusted levels, white balance, and sharpened in Aperture.  I sharpened up his eyes a bit in PS, cloned out some dust spots, and darkened the corners.
Photo Info:  Nikon D3, ISO 200, 24-70 (at 70mm), f/3.5, 1/200, -.33EV.