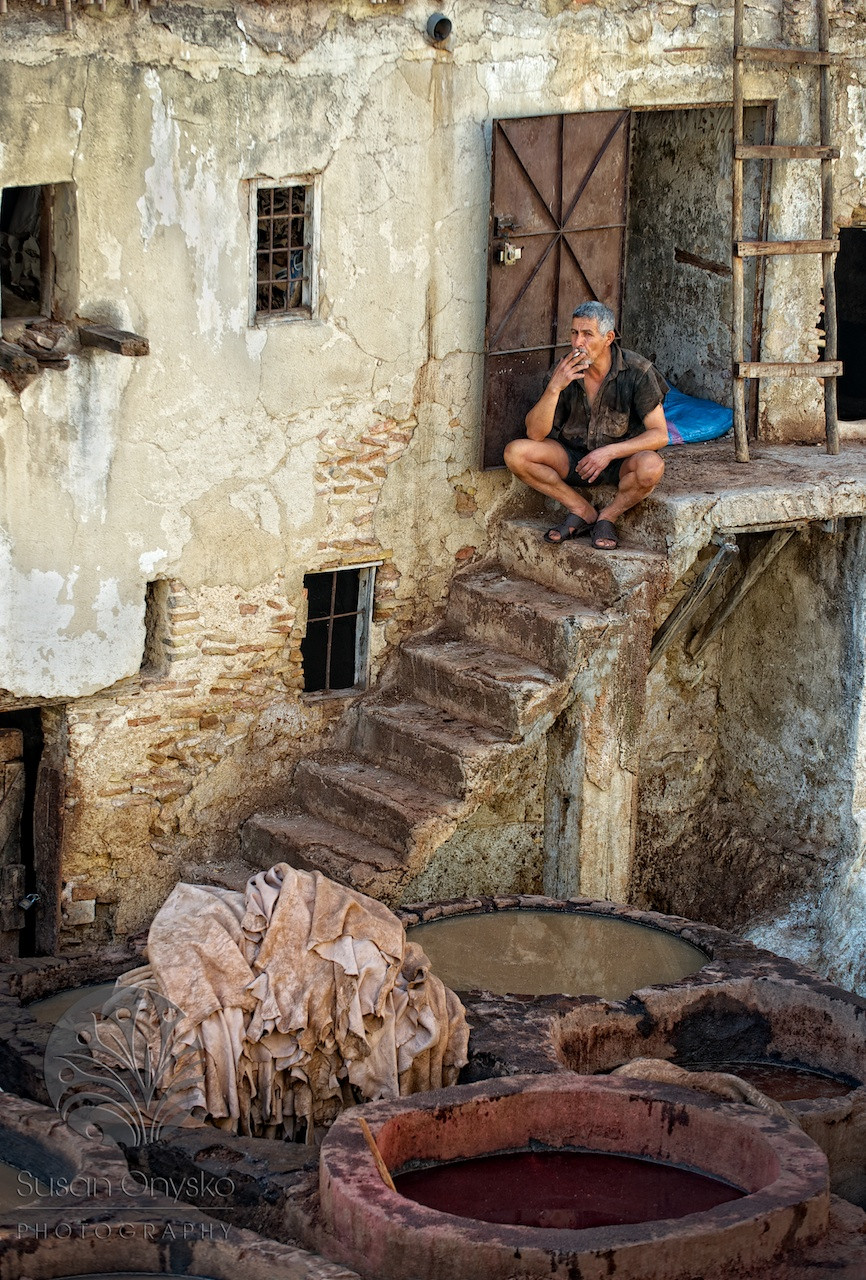 Sometimes its better when you don't get what you want…
In 2010 I went to Morocco with Photo Quest Adventures and the amazing Stacy Pearsall, a great photographer who was an Air Force combat photographer.  She recently released the book "Shooter. Combat From Behind a Camera." Check it out – she is fantastic.
I had one photo that I absolutely had to have from Morocco: a super wide shot of the Fez Tannery with the vats of dye.  Our group woke up early and our guide took us up to the landing for the perfect spot for that shot.  When we got up there the workers in the vats started arguing with our guide that we were not able to shoot from that balcony.  They had even gone so far as to hang a big banner with writing and the universal red circle with a line thru it and a camera.  There was no doubt what that meant.  They were upset over the fact that they received no compensation from the merchant from whose balcony we were shooting.  A compromise was made that we could shoot from other balconies around the area or even come down into the vats with them.  I probably I could have fired off a couple of shots during the time this was all taking place but I couldn't bring myself to do it. I did, however, attempt to take a very poor video from my hip of the event just for memories sake.  Unfortunately my friend and I had worn inappropriate footwear (sandals) for actually going down into the vat area, which was a combination of blood, skins of animals, and feces.  We searched out another balcony and shot mainly with a long lens trying to isolate different workers.
Initially, I did not even go through the images from our shoot there.  When I finally did I was pleasantly surprised that there were actually several shots that I liked.  It wasn't quite what I expected to get but in the end it was for the better.
I loved the way this photo really told his story.  The vats and hides showed the hard work that he did and we can all agree he was definitely in need of a break.  I also liked how the vats, stairs, and even the ladder led you through the entire image.
I adjusted levels and white balance in Aperture.  I removed a hose that was going thru the bottom of the image in PS and added a bit of the tonal contrast filter in Nik Color Efex to give it a little more texture.  I debated taking out that blue tarp behind him but in the end decided against the additional work.
Photo Info:  Nikon D3s, ISO 400, 70-200mm (shot at 110mm), f/5, 1/200.