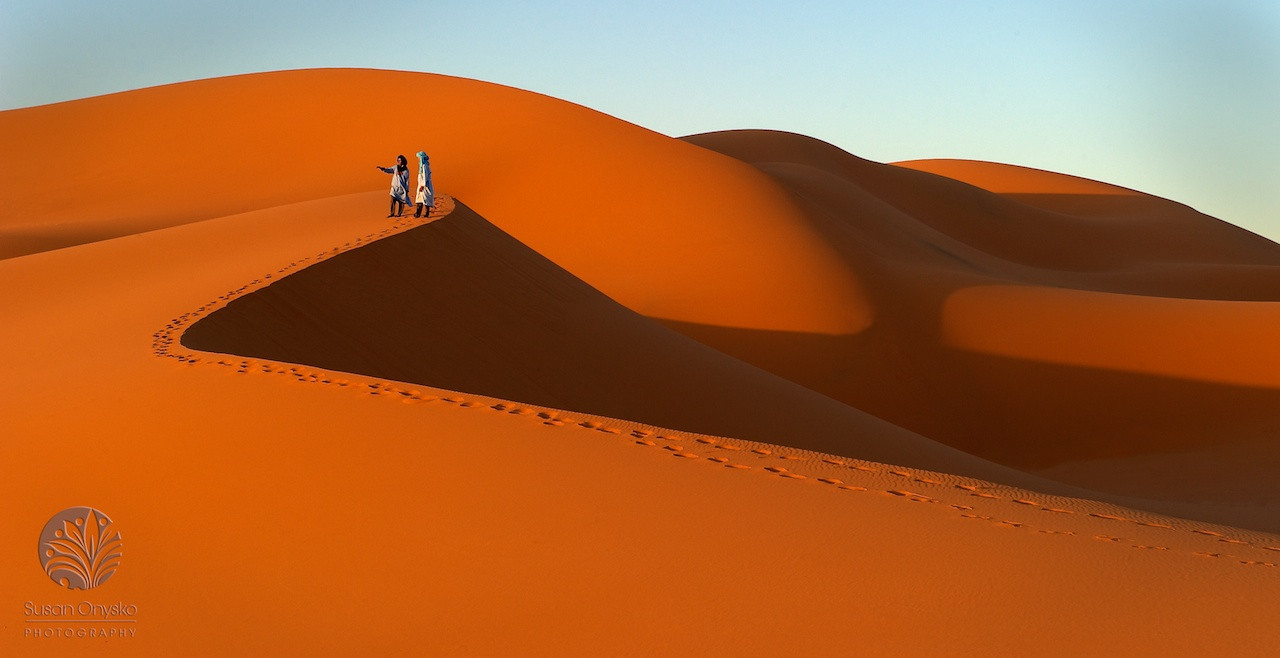 Did it really look like that?
I went to Morocco in 2010 with Photo Quest Adventures and the incredible combat photographer/photojournalist Stacy Pearsall.  We spent one night in tents in the Sahara Desert, which was absolutely beautiful.  On one of the mornings we woke up early and rode camels out into the dunes to photograph the sunrise.   I always feel the need to reveal if a shot is "set up" or not so that people do not think that I just walked into a magical scene when I didn't.  This shot was set up.  The guides were so kind and walked out together on this dune.  They weren't told to keep space in between their bodies and point or anything like that.  Nor were their outfits picked out – they have on their normal work clothes that we saw them in everyday.
Since we rode camels out in there in the morning we could not take a bag so before you went out you had to make a decision as to what lens you wanted with you.   I was happy that I took my 24-70.  It allowed me to get a great view of this incredible landscape and still be able to zoom in enough to crop out some of the uninteresting sky.  The blue was a beautiful complementary color but I always hope for clouds.  In this photo, however, I don't know if it would have helped or hurt.
Another question I get asked a lot on this photo is "Is that really the color of the sand?"  It most definitely was.  I cropped, adjusted levels and white balance in aperture.  In Photoshop I darkened the sky a bit, and boy did I use the spot healing brush a lot!  Between little twigs etc. in the sand and all the spots on my camera, let's just say the camera went in for a cleaning after this trip!
Photo Info: Nikon D3S, 24-70mm (shot at 70mm), ISO 400, F/13, 1/80, – .67 EV