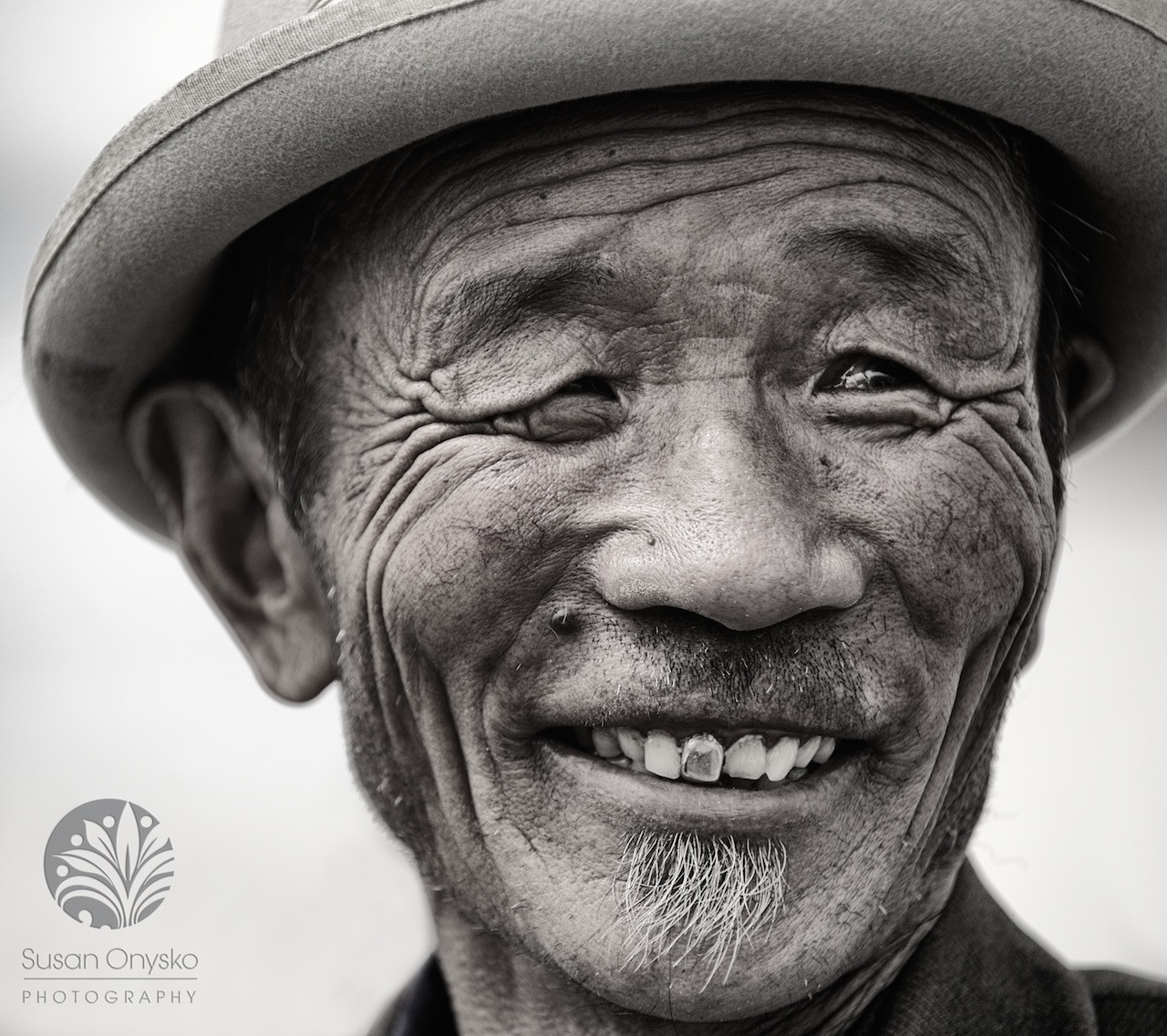 These are some photos from Mongolia that I took in 2009.  This man had the greatest face ever.  There were about eight photographers who flocked to him when he came out of a building.  Although I have become somewhat bolder over the years, I tend to be on the shy/quiet side.  While I can get in someone's face to get the shot if I have to, I much prefer to sit back with a long lens.  Why?  There are many reasons!
First, put yourself in your subject's shoes.  I would say most photographers I know keep a 24-70 (or close to it) lens on most of the time.  It is a great lens but for portraits you have to get pretty darn close and your subject definitely knows you are taking a photo of them.  Imagine having a group of photographers taking photos of you up close when you are not used to it.  If you are a pretty twenty-year-old girl you may eat up the attention.  If not, however, you are probably plotting an escape plan from the intimidation!
With a long lens you can stand back and just shoot away.  You are able to capture great expressions and genuine moments of interaction with other people (and bonus – not get them in the shot).  A sideways smile, a wistful look – by stepping back you get to see and capture it all!
Backgrounds.  More often than not you do not want to see every detail in the background.  A 70-200 lens lets the background go soft sooo beautifully, thus allowing full attention to be on your subject.
The only downside of using the 70-200 lens is that you can't get to close.  You have to resist the urge to inch closer to the subject or you will be disappointed with some blurry shots.  Most of us shoot digital these days so it is pretty easy to keep this in check.
The sepia photo was processed a few years ago.  I adjusted levels and sharpened in Aperture. I used the Antique Plate Filter in Silver Efex Pro to create the sepia look.  I love how this filter adds a vignette to the image.  A few spots were cloned in PS.
The B/W photo is one I recently discovered when browsing thru my library.  I adjusted levels and sharpened in Aperture.   I cropped it a little to focus on his face, converted to BW using Nik Silver Efex 2 (full contrast and structure) and cleaned up a few spots in PS.
If you do not have Nik Silver Efex I highly recommend it.  This plug-in is one click and it can totally transform your image.  I like the fact that with the same man, same light, same everything I was able to get two completely different looks.
Sepia photo info: Nikon D3, 70-200mm lens (shot at 190mm), ISO 200, f/4, 1/640,  .33EV
B/W photo info: Nikon D3, 70-200mm lens (shot at 190mm), ISO 200, f/5.6, 1/800, .33EV