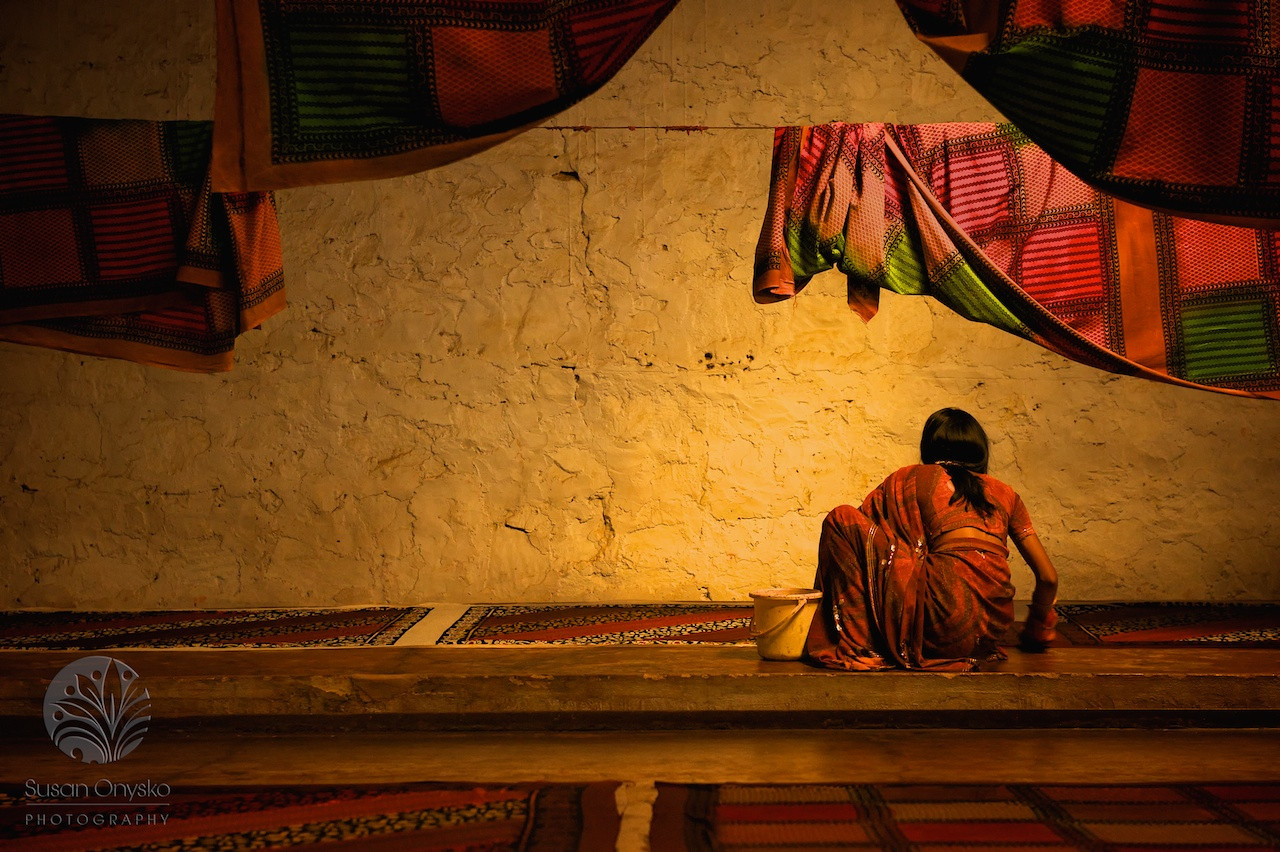 These are two of my favorite images from India.  Our guide took us to a few textile factories where photographically it was either hit or miss.  It was impossible to tell if the scene would be totally amazing until you were in.  People working in other countries are one of my favorite things to shoot.  I love environmental portraits, especially ones that tell a story about working conditions.
There were ten of us in our group, which made this location a little more challenging.  I managed to take about 100 photos in this particular location.  Most of my shots were just isolating individual workers so as not to get the other photographers in the shot.  None of those photographs really seemed to work.  The lighting on their faces wasn't great and I was forced to shoot at weird angles.  I felt that my shots weren't telling the whole story.  When I stepped back and just started observing I noticed how I may have been going about it all wrong.  In general I feel that everything looks better when its shot on the same flat plane and not from the side, off at an angle, etc.  The most interesting thing going on in the room was the draped cloths hanging above them.  I took about 30 shots from my new stepped back location and picked the simplest composition from these that also included other non-workers in the photo.
In both images I like how the curtains draw you to the subject.  It makes it seem like she is on a stage.  Both photos have a very 3D effect to them with many different layers.  The painted textiles laying on the table are repeated.  I don't think the images would have had as much impact if the dark textiles at the bottom were not included.  Our eyes tend to go to the lightest part of an image and in both of these the lightest part is where the subject is located.  These women did not stop their work for us – many were moving in and out of the frames that I shot.  The woman looking at the camera obviously knew she was being photographed.  As for the woman not looking, I wonder if she knew at that time that she was being photographed?  I don't think so.  After all why would someone want a shot of someones back working?  I DO!  I like the one shot from behind a lot more.  It seems to have more impact.  It's moodier with a lot more drama/mystery to it.
The photos were shot at ISO 2500 since it was pretty dark.  I used Dfine to reduce any graininess.  I could not see any visible granularity, but for printing purposes I use it just to be sure.  I straightened them in Aperture, as I rarely use a tripod.  I cloned a few spots away in Photoshop and adjusted levels, tweaked the white balance, sharpened and added a vignette in Aperture.  There was also a natural kind of vignette to the images as shot which was pretty neat.  I blew out some of the highlights but was able to bring them back.  Thank goodness for RAW!  Do you have a preference for either image?  Why?
Image Information:
Location: Sanganer, India
The shot from behind: Nikon D3S, 24-70mm lens – shot at 70mm, ISO 2500, f/4.5, 1/125, EV-.67
Facing camera shot: Nikon D3S, 24-70mm lens – shot at 70mm, ISO 2500, f/4.5, 1/100, EV-.67