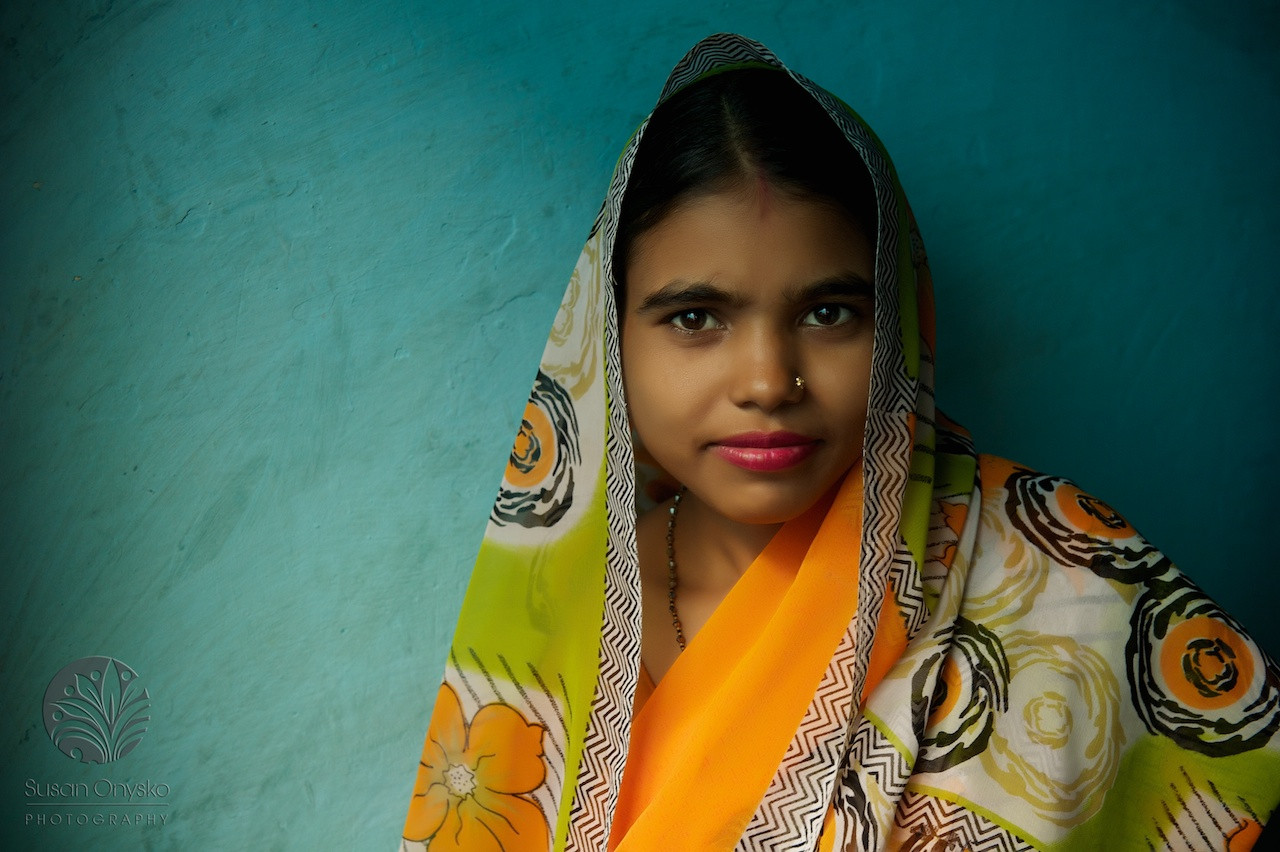 I traveled to India in November with Photo Quest Adventures and an incredible photojournalist- Ami Vitale. I loved visiting the small villages, the people seemed so much more welcoming in the more rural areas. One of my girlfriends let me borrow some traditional Indian clothing to take on the trip a Shalwar kameez (fyi, VERY COMFORTABLE).  People in general seemed to be more comfortable with me and very complimentary when I was dressed as they were. During a village stop a teenage girl nearly dragged me to her house to watch her make pottery, all her family was there and after I took photos of her she wanted me to get pictures of everyone. There was probably 20 women/girls surrounding me with no regard for personal space, as they touched the skin on my neck, chatted and laughed. I shot away….they love pale skin there, which here of course i get chicken legs and whitey a lot but they could not believe that I wanted darker skin.
It was late morning/early afternoon and as the girl in yellow came out of the house. My heart started beating faster… her dress, blue wall mixed with the light coming in thru the archway would be unreal! I took 6 shots of her total 2 with a hallway as background and the blue wall on one side, the background just didn't look right. I moved her to the wall, three of those had pieces of other people in them, a hand etc.. This is one of the 2 that was left– I used Dfine to take any grain out of the image – it was shot at ISO 1600 and looked fine to me but I usually print images out for framing and camera club competitions and some people get picky about it. I did some skin smoothing in Portraiture -cloned a few spots on the wall and her face in PS and adjusted white balance, levels, sharpened and added a vignette in Aperture. It was honestly a magical moment and I knew as I was taking the shot that it would be one of my favorites of the trip (out of the 5,000 taken). Is it just me or does everyone have those moments where you look at something or someone and it takes your breathe away and you can only hope to convey that in a single photo?
I was only able to take photos of 3 people in the family before our guide came to find me- it was time to move on. When I go back to India I want to travel around to more of the villages. I found that to be the most enjoyable time spent there.
Location- Barara, India (about an hour drive out of Agra)
Photo info- Nikon D3S, 24-70mm lens-shot at 56mm, ISO 1600, f/5, 1/125, EV -.3.