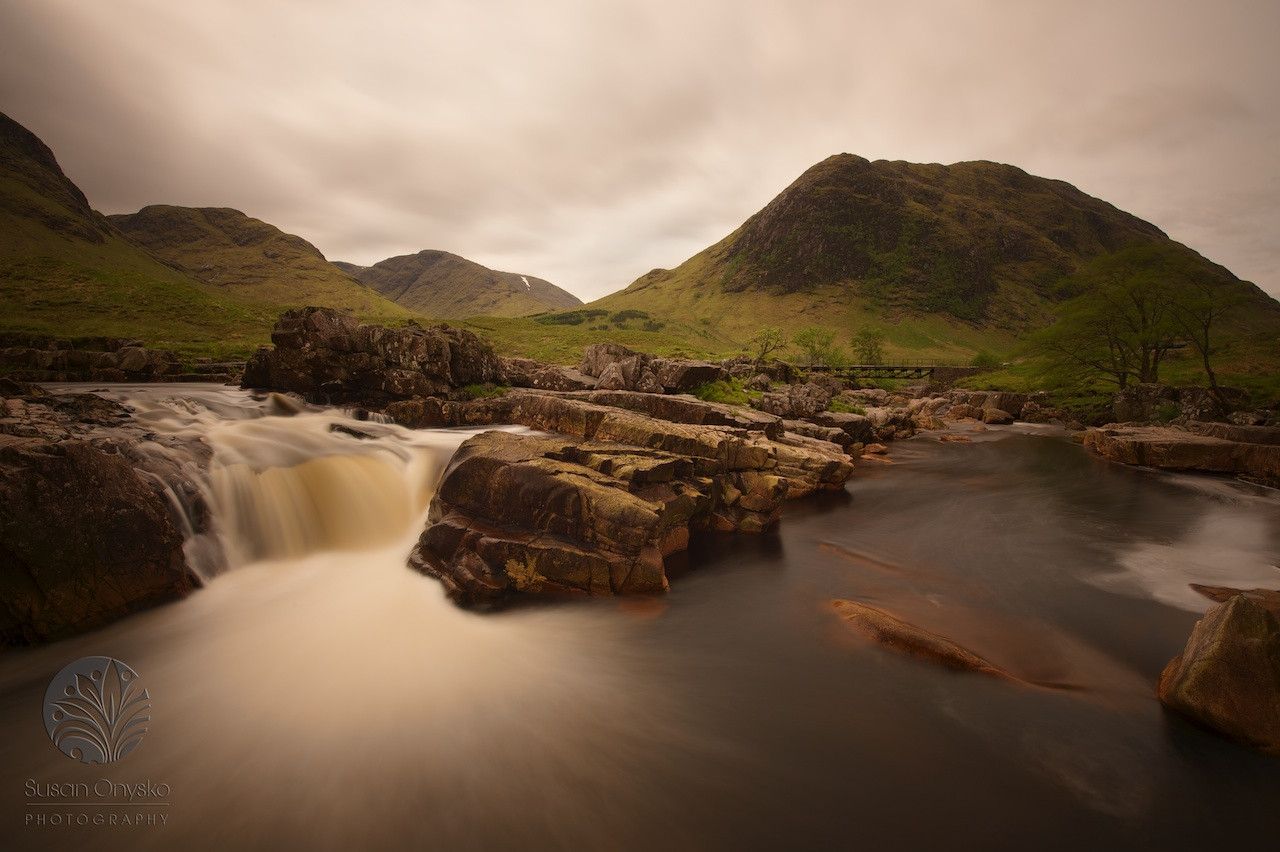 As I type this blog post, my Nikon 16-35 lens is lying on the bottom of a river in Scotland. As a tribute to this great, but seldom used lens in my bag, I thought I would share one of its last captures. Unsurprisingly, the image is that of a waterfall in the Highlands taken on our first full day out.
What caused this great lens to plunge stories to its demise? Most likely user malfunction. There were quite a few lens changes happening and this particular time it must have been connected poorly to the camera. When the body of said camera was tapped, the lens shot straight out four to five feet while doing a slow motion spin/flip/swan-dive into a ravine 50 feet below.
Insurance covered the loss without question. I strongly encourage travel photographers to get insurance coverage, as typical policies do not cover damage, theft, and loss abroad. The amazing part of the loss, however, is that our scarily resourceful guide had a replacement delivered to our next hotel two days later!
I rarely use tripods. For me, being connected to a tripod is like handcuffing my creativity. I find that when capturing people or spontaneous moment, the time it takes to loosen the knobs and twirl the lens is oftentimes enough to miss the action. As long as there is a decent amount of light my fast lenses and high-ISO capable cameras handle the majority of situations just fine.
Waterfalls, however, are a different story. I prefer the soft "cotton candy" dreaminess of the plummeting water versus the rigid freeze-frame of its heart-pounding action. To achieve this I use a Singh-Ray 10-Stop Mor-Slo filter. When using this filter it is necessary to do more planning and preparation: VR needs to be turned off and autofocus needs to be used and then switched to manual immediately before attaching the filter. Tripods and cable releases take center stage and your ability to move around quickly and effortlessly disappears.
Success with this filter tends to be a technical feat. I use it sparingly but when I do I get results that make carrying around a tripod well worth it. I still prefer the freedom of turning, bending, reaching up and down, and running around with my camera free, but for creativity in nature this setup is becoming second nature to me… pun intended.