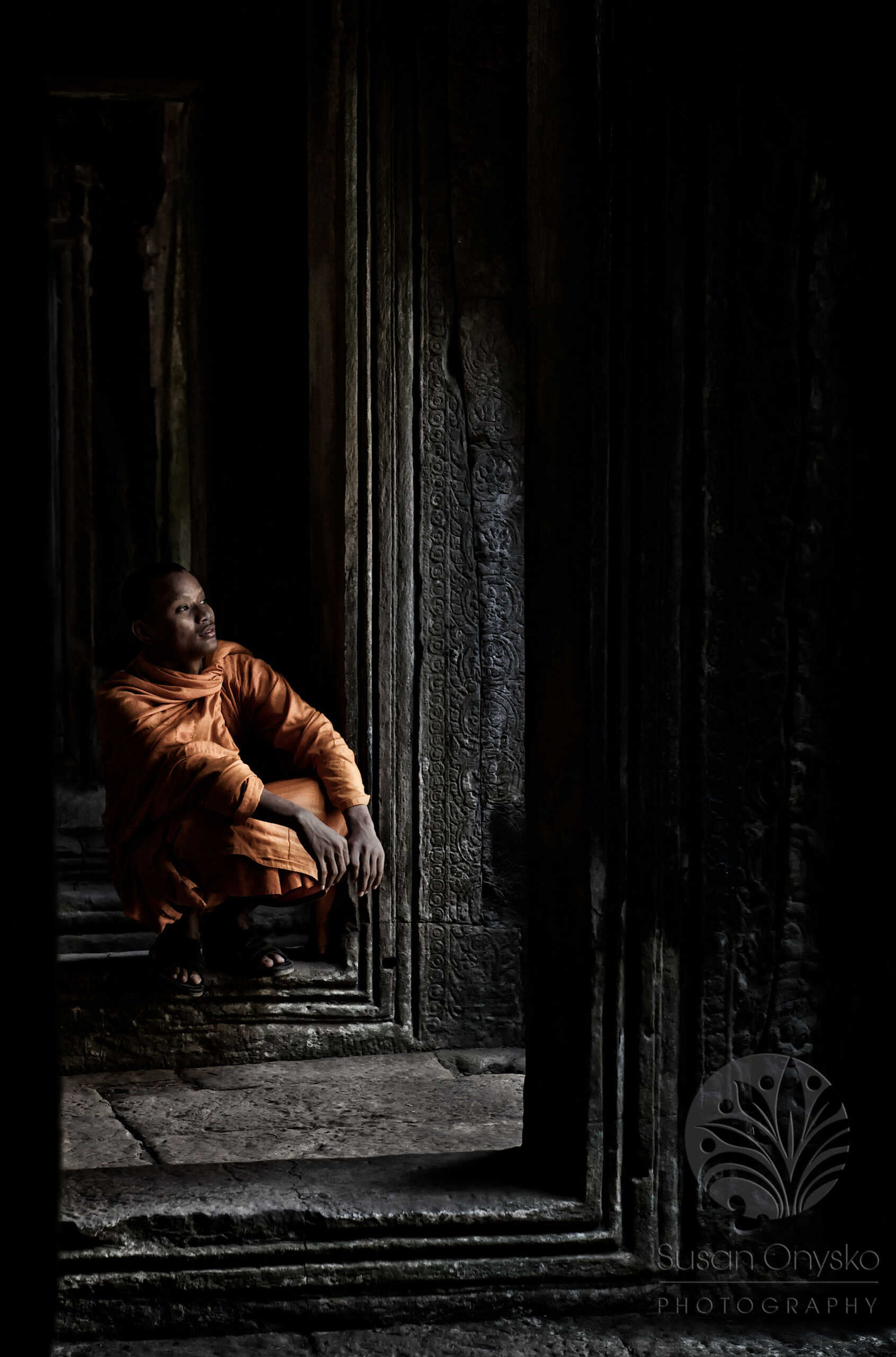 Catching an unguarded moment…
I have a lot of patience.  Having four children, you either develop massive levels of patience or the entire family turns into a pretty miserable lot.  That patience proves to be of great benefit when photographing people.
Trying to photograph monks in Cambodia earlier this year proved to be somewhat frustrating.  The Wats (temples) were crowded with tourists and the monks in orange were like celebrities.  By making a donation to a local monastery, the group I was with arranged for a private photography session with a couple of monks at a local Wat.  Although the monks were still accosted by tourists, we were able, at times, to isolate the monks in doorways, stairways, and the like.
One would think that that would be all of the ingredients needed for a great photo, right?  Monk, check.  Beautiful location, check.  Lovely light, check.  But something was missing.  Like many people who aren't models, the monks appeared too stiff.  Perhaps they were holding their breath?  Whatever the case, the photos just looked very unnatural and uncomfortable.  I shot photos as the monks were looking rather stiff and posed and then kept the camera up trying to capture those fleeting moments when they relaxed a little and let their mind wander.  Unfortunately, those moments were few and far between.
When not using a flash, I shoot people in continuous mode on my camera.  Admittedly, I sometimes take too many photos.  As long as you have a big enough memory card, though, as well as the time and energy to go through all of the images, it makes sense.  In this case it is what saved the photo session for me.  I had over 300 images from this location and only a handful that I liked.  Despite taking 300 photos, this image portrayed what I wanted: that I had stumbled upon this monk deep in thought in his natural setting.
In Aperture, I cropped, adjusted levels, and sharpened.  In Photoshop, I cloned out the tip of another person's knee that was facing the other direction behind the monk and burned down some of the stone to draw more attention to the subject.   I used the Bleach Bypass filter in Nik Color Efex – I loved how it accentuated the orange robe and gave the stone a black and white, textured, gritty feel.   Although I toyed with the idea of bringing more detail into the shadow areas, in the end I chose not to.  I loved the drama, power and depth that the dark shadows added.
Photo Info:  Nikon D4, 24-70mm at 70mm, ISO 2500, f/5.6, 1/125th, -1.67ev.