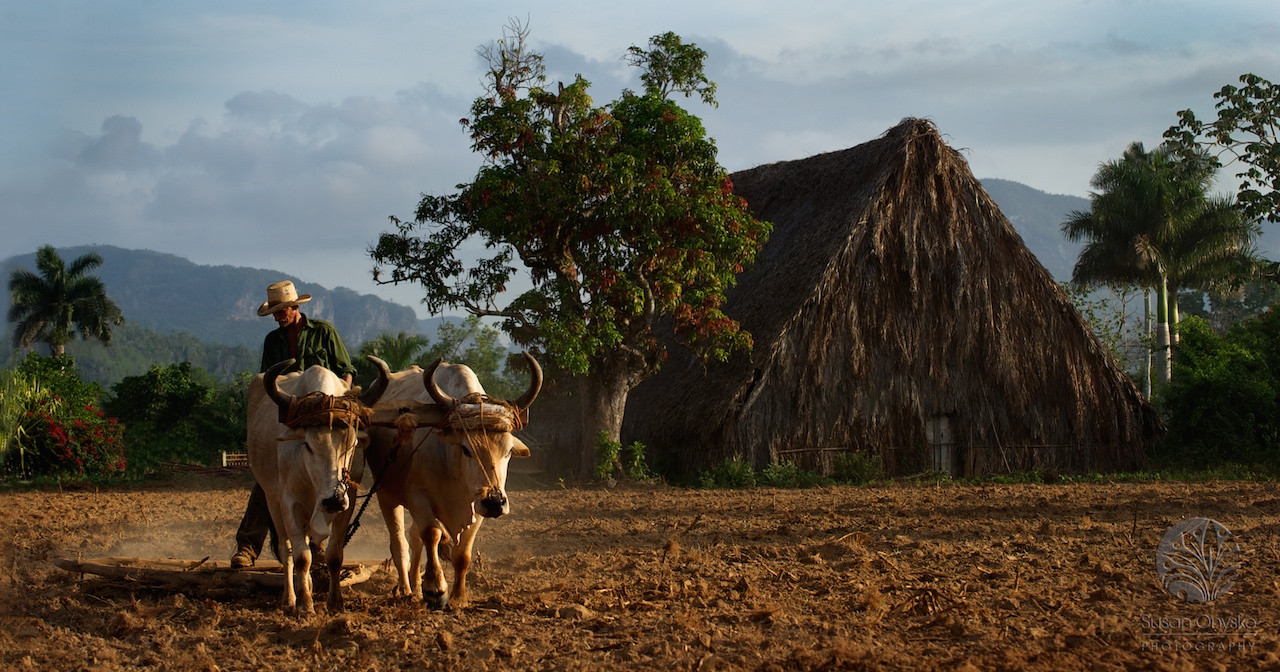 Right place, right time, and a little work…
I visited Cuba in May of 2010 with Photo Quest Adventures as part of a humanitarian mission.  It was one of the most interesting places that I have ever traveled to.   If you are considering going to Cuba I would recommend planning that trip sooner rather than later.  As it opens up to more US citizens in the coming years it will inevitably become very commercialized and lose some of its character.  The city of Havana was great and very photogenic with those old cars EVERYWHERE!  My favorite time on this trip, however, was the countryside.  We spent one day in Pinar Del Rio and that was where we stumbled upon this amazing scene.
I knew when I was taking this photo that it would be my favorite image from the trip, but I could not think of the reasons why at the time.  It was an amazing scene: morning light, a great location, nice clouds, and a farmer who did not notice us immediately.   Even when he did he just went on about his work.  What more could you ask for?  I decided I was not going to miss this shot.  Although it was very dusty, I switched from my 24-70 to my 70-200.  I moved around.  I shot from the ground, knee level, and standing from every angle that I could.  I took 50 plus frames from this location with him in every spot between where I was standing and the barn.
I always try to look for any lines cutting through the subject.  I chose this as my favorite because it had the farmers head framed inside the mountain range.  I also loved his head at that specific angle looking down so you could see the profile of it.  For me it's all about those little details.
When I started editing the photo I realized why I was not able to come up with a reason why it was going to be my favorite from the trip at the time I shot it.  It needed a lot of work.  There was a road behind the barn, telephone wires, poles, and a blaring white house. Although I tried my heart out to come up with a great angle when I took the photo there was no getting around those fixed structures.  I knew with the power of Photoshop that it could be done though.
I adjusted levels, white balance, cropped, and sharpened in Aperture. I used Photoshop for the heavy duty cloning needed.
Photo Info: Nikon D3S, 70-200mm (shot at 98mm), ISO 400, f/7.1, 1/800, -.33EV.