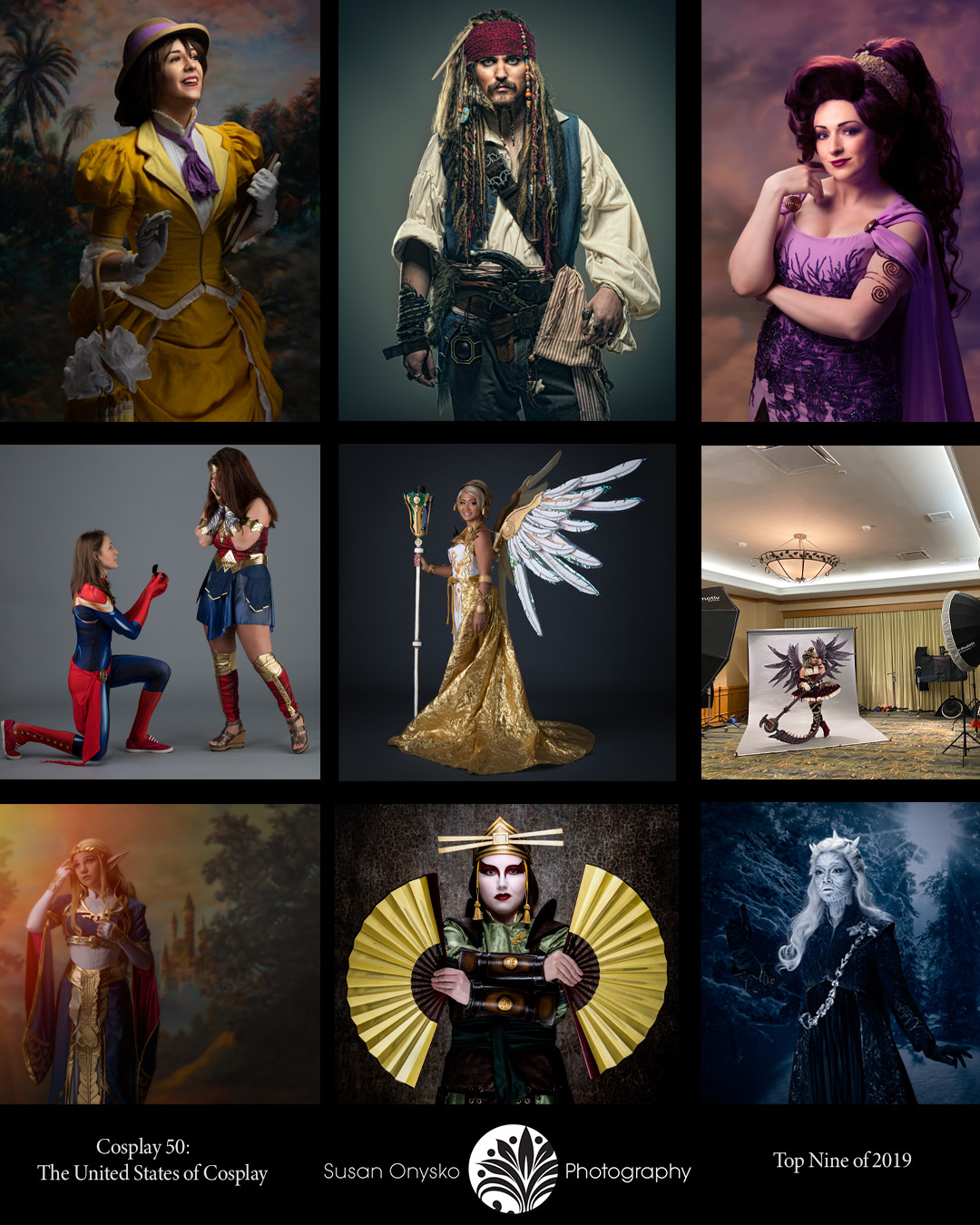 Top Nine of 2019!
Thank you all, what a great variety! In our top nine we have special moments, behind the scenes images and some of my personal favorites from this year and years past. We have cosplayers from six different conventions representing eight different states. 
We attended eight conventions this year and photographed over 250 cosplayers! Extra assistants were added at the conventions along with more backdrops and equipment and a Sprinter to transport it all. Sean, who many of you know, helps out during non-convention times. This is making it possible for me to finally start catching up on editing photos. We also have some big exciting news for cosplayers that we will announce shortly to make the Cosplay 50 experience even more unique!

It has been a busy year. In addition to cosplay photography, this year I photographed in Australia, had an amazing workshop experience with Lindsay Adler in NYC, photographed along Route 66 in Texas and New Mexico, then went back and did some portraits in New Mexico, and finally photographed bears in Alaska (which always reminds me how much I love wildlife photography)! I truly enjoy the balance I have in photography genres now. There is nothing like the chaos, spontaneity and out-of-your-control elements of travel photography, but it is refreshing to come home and settle down to the controlled environment of the studio. 
I can't wait to see what 2020 brings. The current convention schedule (which we are continually updating) is shared below this post. In addition to cons, I have trips planned to Alaska, Costa Rica, New Zealand, Galapagos, Bosque Del Apache and White Sands, Glacier, and more of Route 66.  
Upcoming Conventions
Feb 21-23, 2020: LVL UP EXPO, Las Vegas, NV (New State)
Mar 12-15, 2020: Emerald City, Seattle, Washington
May 1-3, 2020: Awesome Con, Washington DC
May 21-24, 2020: Phoenix Fan Fusion, Phoenix, AZ (New State)
Sept. 11-13 Rose City Comic Con Portland, OR
Oct 9-11, 2020: Tsubasacon, Charleston, West Virgina (New State)