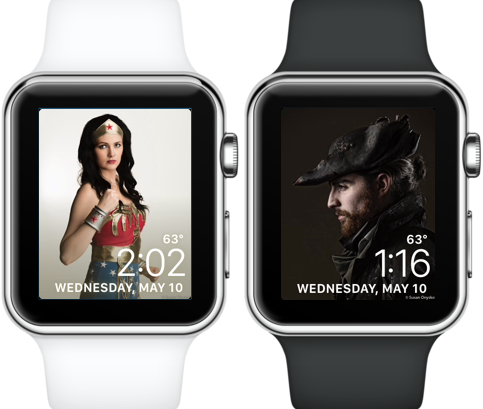 Cosplay Apple Watch Faces!
My Apple Watch face has always been a bit boring. While it displayed a lot of information, the background was a simple solid color. When the option became available to use your own photos as a watch face, I experimented with using my travel photos for that purpose but the variety of dimensions, small details, and mixed themes were at odds with the tiny display.
A couple of weeks ago I was sitting in an airport and on a whim I dragged some of my favorite cosplay photos into an album in Photos on my Mac. I then synced that album with my Apple Watch and created a new cosplay photos watch face. The results were incredible! It was as if they were meant to be on my wrist. Every time I look at my wrist for the time now, a smile crosses my face. I showed my new watch face to my family and they immediately got jealous and made me share the photo album with them.
Since I am now "syndicating" my images on multiple wrists, I went back to the original images and started tweaking them for their tiny new canvas. I hope to add a few after each con to keep me smiling!
Anyone who would like to be added to my new Apple Watch Cosplay album simply private message me with your Apple ID and I will add you to the share. It will be great knowing that these amazing cosplayers are the source of happiness for others just as they are for me.
By the way, please join me in wishing the lovely Morgan Durfee pictured here as Wonder Woman and Jacob Newton pictured here as Hunter from Bloodborne congrats on their recent engagement!