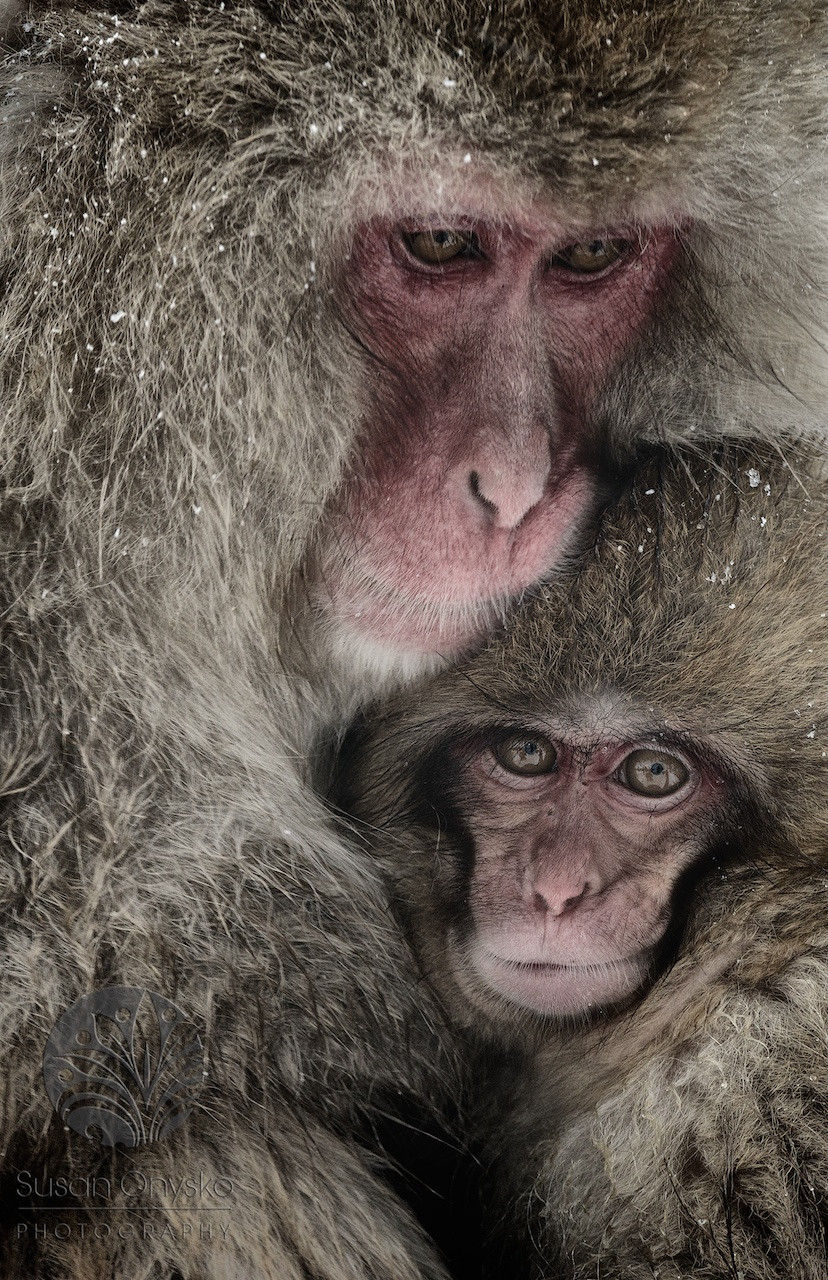 "Be prepared" is the Girl Scout motto. Anyone who has traveled with me on a shoot knows that I always come prepared. The weight of my backpack alone supports legions of massage therapists across the globe.
Japanese macaque monkeys (more commonly called "snow monkeys") have always been on my bucket list to shoot. Most of us have seen photos of them basking in the heat and steam of hot springs while snow falls around them. On a recent trip to Jigokudani Monkey Park I got to check them off of my list. Before entering the park I made sure that I was completely prepared. People and wildlife can be unpredictable and a "special moment" capture can happen at any time – usually when you least expect it. For example, when you get all of 20 feet into the park…
I generally shoot in aperture priority and will start a day at f/8 or f/9. I almost always have two bodies on me ready to go at any time. On this particular day, however, it was pretty snowy out and I decided to slim down to a single body with an 80-400mm lens. As it was midday, I anticipated some crowds and thought the 80-400mm lens would give me the best chance of isolating individual monkeys. The day was overcast so I estimated an ISO of 1250 for my hand-held long lens. I had also bumped up the EV to +.33 to compensate for the shaded monkey and snowy conditions.
As soon as I walked into the park, a mother monkey and her baby jumped onto a fence in front of me, the baby burying itself against its mother. I managed to take a few steps backward so that my camera would focus and was able to fire off six shots before the pair scurried off. This was my favorite shot of the bunch. It resonated with me as I have cuddled and looked down upon four children with much the same look of wonderment, worry, and love. Being prepared from the moment of entering the shoot got me this image.
The out-of-camera shot was very strong. As I talked about in my recent Hints of Color blog post, though, I thought a tad of post processing was still called for. I did a black and white conversion in Nik Silver Efex Pro 2 and added a bit of contrast. I then reduced the opacity of that layer in Photoshop until some gentle pink and brown tones came back into the image. These monkeys have bright red faces and red is a color that generally evokes feelings of passion, danger, strength and power. I chose a softer pink tone instead for feelings of calmness, warmth, and nurturing. This was a soft and gentle moment shared between a mother and child and I wanted the end result convey the purity of that moment.