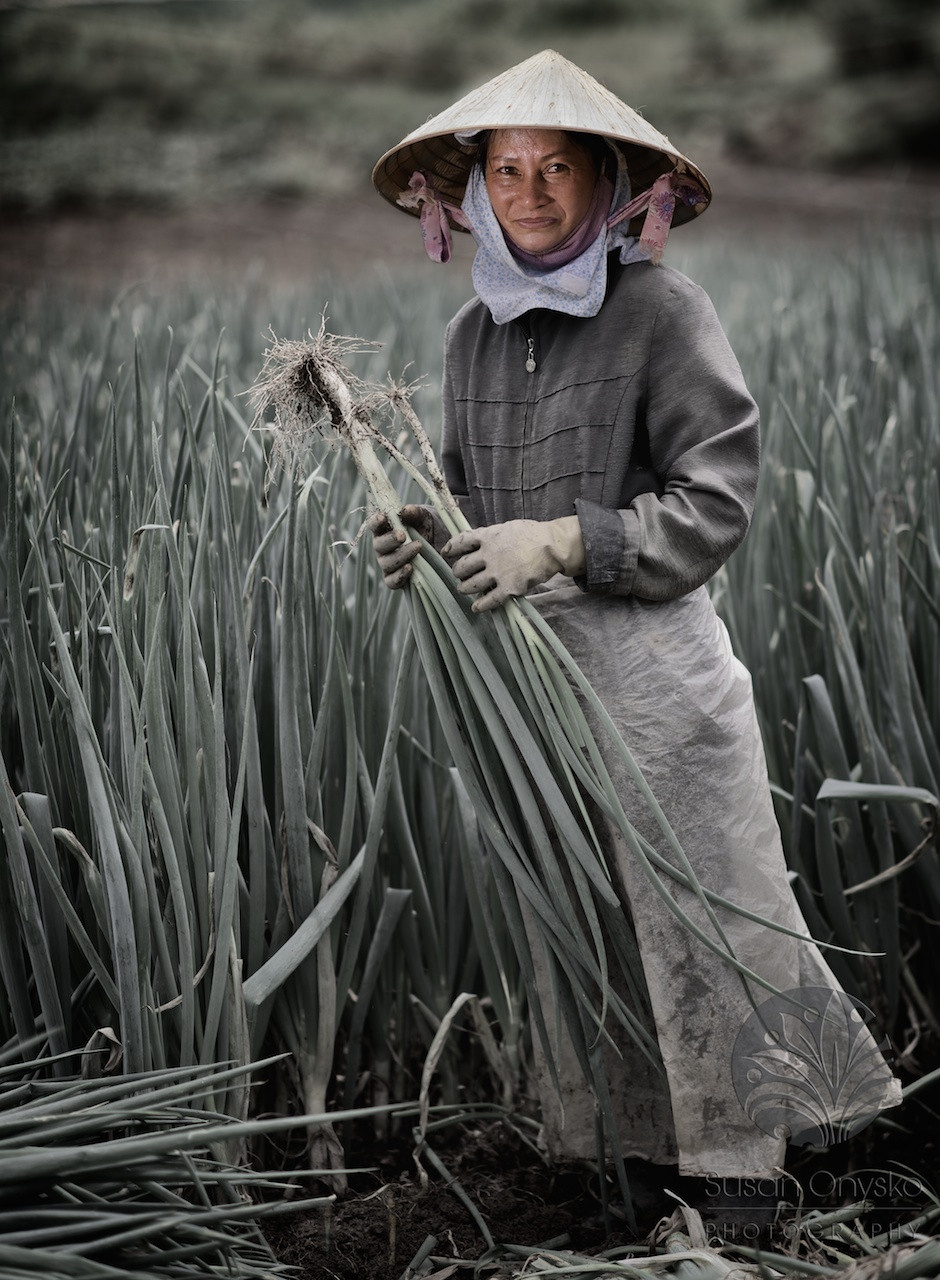 Last year I traveled around the Dalat area in Vietnam for several days. I had an amazing guide during this time (thank you Trung Tín Hứa ) who quickly realized the kind of photos I wanted to take. He helped find willing subjects, translated, and turned out to be a great grip also. One afternoon we came across a group of people working in a field who happily obliged my need to take their photo. To my surprise their patience persisted even when I brought out an off-camera flash and completely got in their way.
The sun was peeking in and out I wanted to ensure that the beautiful face of this woman was not covered in the shadow cast by the hat when the sun decided to make an appearance. I used a Nikon Speedlight and an 85mm 1.4 lens. The look and softness of the background were exactly what I was hoping for.
This photo was one of my favorites of the trip. Upon editing it, however, I felt that something was missing. Her features, her mannerisms, and the fabric draped around her face all revealed a sweet, soft gentleness. I needed that to be what the photo conveyed. I felt that the background and her face had a bit too much red and that the gloves were a bit too yellow. I tried a straight black and white conversion coupled with some selective dodging and burning, but the end result was too stark of an image. It needed a delicate touch of color.
I started out by reducing the saturation of the photo overall. On another layer in Photoshop I used Silver Efex Pro 2 to convert the image to black and white. I then masked the color from her scarves and face back in. For me that was the key: the beauty of her face against the hard labor she was doing. I then reduced the opacity of the Silver Efex Layer as a whole until hints of colors came back in, including the greens in the grasses and faded yellow on her gloves.
I included a before and after for this photo. If you are viewing this on Facebook or Google+ please go to the website to view the before image.